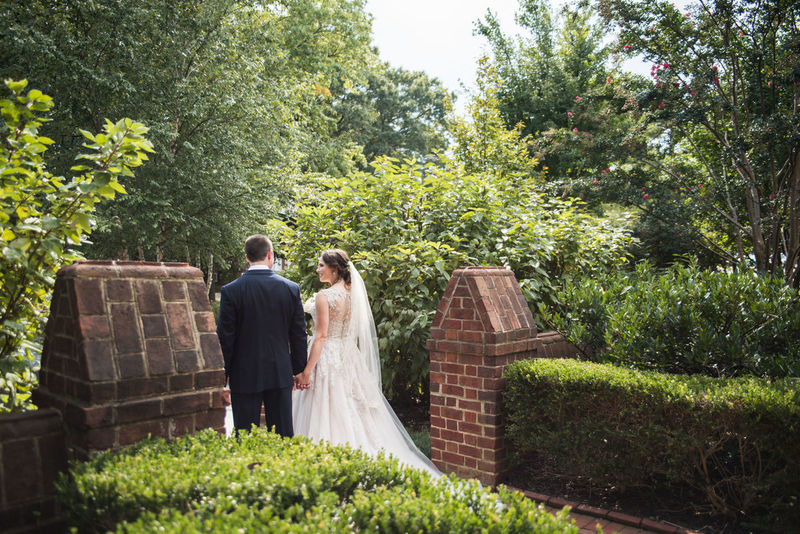 Creating Your Chapel Fairy Tale
Whether you are planning a large celebration or intimate affair, we are thrilled that you are considering Memorial Chapel for the location of your wedding. Anyone can be married at Memorial Chapel regardless of their affiliation to the University and cultural or faith background. Ceremonies of all sizes and traditions are welcome and can be accommodated in the majestic Main Chapel or quaint Garden Chapel. Our experienced and dedicated staff handles more than 100 weddings a year and is available to assist you every step of the way from your initial reservation to "I Do." 
Weddings are held at Memorial Chapel on Saturdays and Sundays in both the Main and Garden Chapels in alternating time blocks so that no two ceremonies take place simultaneously. There are some weekends, however, that weddings can not be accommodated due to University of Maryland functions and holidays.
A wedding reservation at Memorial Chapel includes:
2 hours and 45 minutes in the Chapel on your wedding day (2 hours and 30 minutes in the Garden Chapel)
A 90-minute rehearsal on the Thursday or Friday evening before your wedding
The services of a Chapel Event Manager at your rehearsal and wedding
The use of Chapel sound system, musical instruments, furnishings and altar pieces during your ceremony
Two dressing/prep rooms for Main Chapel reservations or one dressing/prep room for Garden Chapel reservations on your wedding day
Wedding Ceremony Times
The times listed below denote the actual start times for wedding ceremonies. The times in parentheses denote the times for the entire wedding day reservation. It is recommended that your ceremony is 45 minutes or less in length. This will allow you to have enough time for photos and cleanup once your ceremony concludes.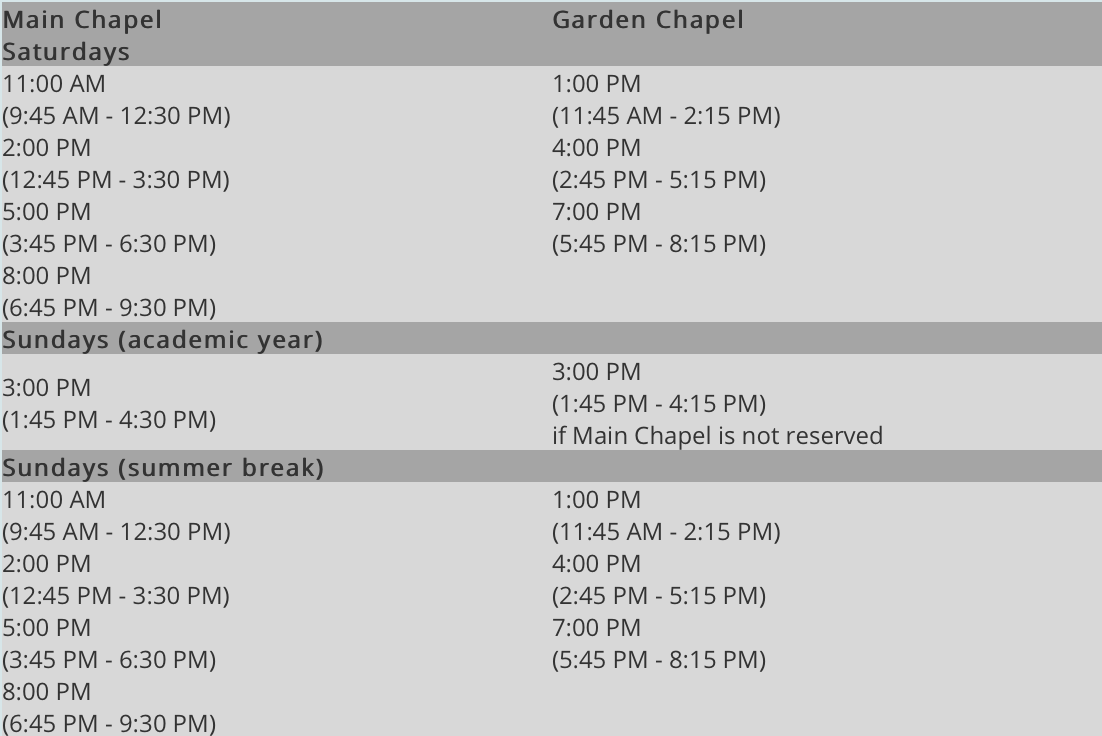 Start the Process Online or By Phone
Have a particular wedding date or dates in mind? Give the Chapel Office a call weekdays at 301-314-9866 or email us at chapel@umd.edu.
For your ease, you may complete the availability request form online. This form is not an official reservation, simply a way to get the conversation going!
You Have Got to See the Space!
The Chapel is best experienced in person. Tour appointments are available from 8:30 am to 5:30 pm and when needed to accommodate a potential client's schedule, on weekday evenings. Please call the Chapel office at 301-314-9866 so we can set you up.
Bimonthly Open Houses offer brides some weekend and evening hours; an appointment is not necessary.