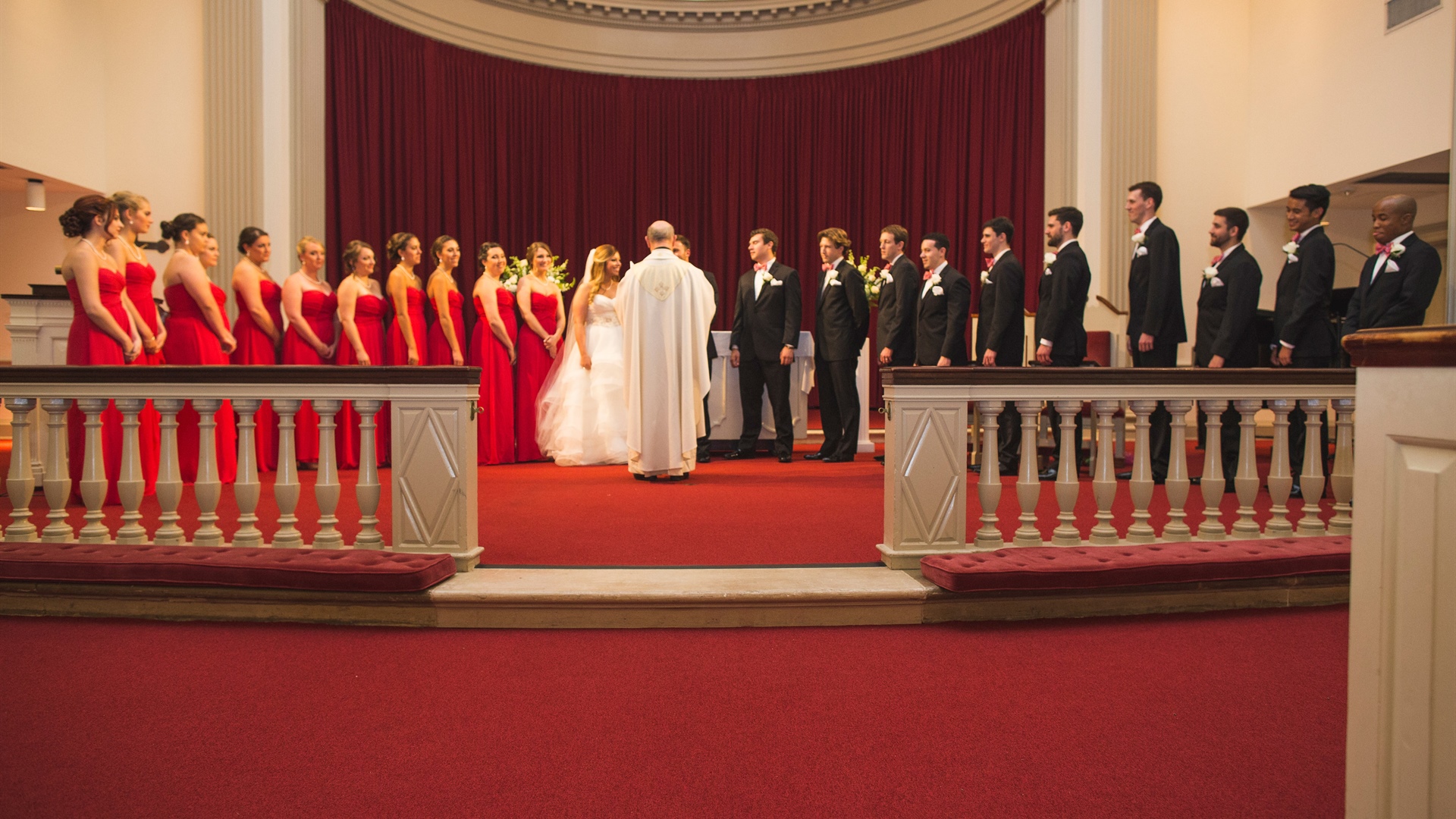 Wedding Reservations within 12 Months
If you reserve a wedding date fewer than 12 months in advance, payment of the entire rental fee and a $75 non-refundable administrative fee in full is required to secure a reservation. However, we are willing to work with clients to create a payment plan that best suits their needs.
Reservations Agreement
A signed Reservation Agreement is required to finalize a reservation at the Chapel. The signed Agreement confirms that our clients understand and agree to abide by University of Maryland and Memorial Chapel policy. A signed Agreement is due to the Reservations Office within two weeks of receipt by mail or email.
Reserve the Chapel
Before making your reservation at the Chapel, it is recommended that you confirm your date selection with your reception site as well as important participants and vendors. Once you have your date selected and confirm that the date and ceremony time you desire is available at the Chapel, you can call or come to the office in person to complete your reservation. Due to the high demand for wedding reservations at the Chapel, holds are limited to 14 days.
Learn more about special circumstances for your day, including scheduling your wedding on UMD game days or reserving multiple time blocks.
Catholic Weddings at the Chapel
By permission of the Roman Catholic Archdiocese of Washington, any part-time or full-time student, faculty, or staff member of the University of Maryland may marry at the Memorial Chapel. Alumni weddings will require approval. The proper place for the Sacrament of Marriage is a parish church, both students, faculty, and staff are allowed an exception to this policy. Please contact the Catholic Student Center immediately if you are requesting permission to marry at the Chapel.
Please contact the Chapel at 301-314-9866 or chapel@umd.edu to confirm availability of your date, then contact the Catholic Chaplaincy at 301-864-6223 or catholicterps@gmail.com.